*This post contains affiliate links & are labeled: #affiliatelink if you click on an affiliate link & make a purchase, I may make a small fee. Please read here for more information.
It was only last week that the air was filled with the smell of BBQ's, now as the evenings draw in, this is being replaced with the smell of smoke from wood-burning stoves.
Outside, the trees are rustling in the wind. With green & yellow starting to fill the air, as the first leaves make their way to the ground. Whilst their counter-parts, safe for now, slowly change color, the start of a rich display of browns, reds, yellows, and deep purples, until their branches become bare once more, leafless and ready for the sparseness of Winter.
Each leaf tells a story, unique, whilst being the same, their veins fan-out, like fingers, mapping out their story. Perhaps they mirror the network of communication taking place in their roots beneath our feet. Silent communication beyond our understanding.  
Rose Tinted Leaves
In this botanical artwork, the leaves are the stars.
The branches are full of rose-tinted brown and beige tonal leaves reaching towards the sky and beyond. The leaves, flower-like get smaller and smaller, as they trail upwards towards the edges of the photograph. These are set off beautifully by the rich brown background.   
Check it out as as a framed art print: 
 Or as a wood wall art panel (available at Society 6): #affiliatelink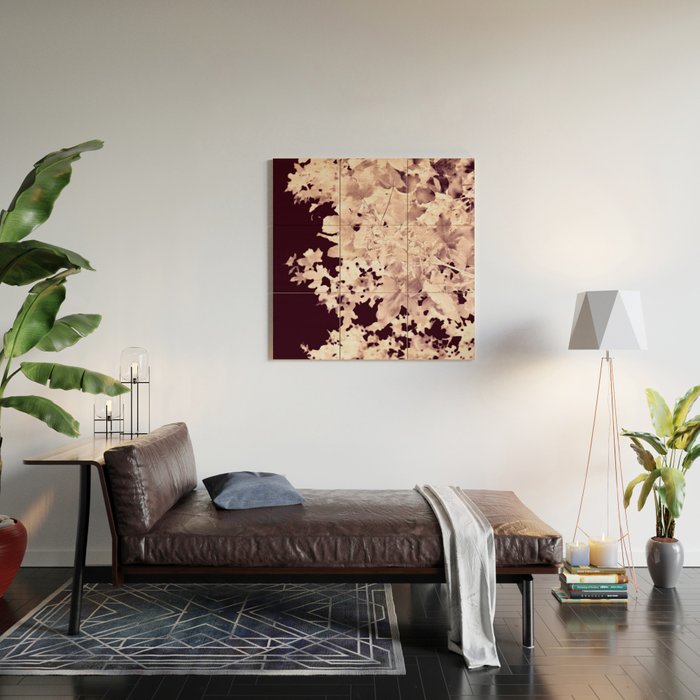 Want to Read more? 
For more Autumnal Art you might like to read my Autumn Vibes blog post.
Or you might like to read my Hello Autumn post.